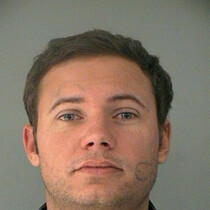 Posted March 28th, 2013 @ 4:18pm

James Watson (photo courtesy ACPD)

James Watson fell asleep on his couch early Saturday after an evening of heavy drinking. While Watson was incapacitated, one of his roommates retrieved a permanent marker and drew a penis on Watson's face. When Watson awoke and discovered "male genitalia on his face," he attacked his roommate, leaving the victim with "extensive injuries to his face," according to a police report. Arrested on a malicious wounding charge, Watson was booked into the county jail, where the above mug shot was taken. An examination of his left cheek reveals that remnants of the impromptu penis remained when Watson posed for his booking photo.